Every Japanese has sung "Red Shoes" at least once in his or her lives. This song came to be known, because Ujou Noguchi wrote the lyrics of "Red Shoes" in 1921 and Nagayo Motoori wrote the music in the following year, and the song spread around the country by itself.

The name of the Girl Wearing Red Shoes is "Kimi Iwasaki". She was born on July 15th 1902 in the old Fujimimura, Shizuoka prefecture (now known as ShimizuMiyakami Shizuoka City).

When Kimi was a baby, she moved to Hokkaido with her mother, Kayo. There, Kayo remarried Shiro Suzuki and together they became pioneer farmers.

The life of pioneer farmers was unbelievably hard in those days, so Kayo had to give away her daughter to an American missionary, Charles Huit and his wife. Although Shiro and Kayo worked very hard, things didn't turn out well for them. Kayo lost her brother who came to help them from Shizuoka because of overwork. They also lost their farmhouse from fire. With despair, they moved to Sapporo, where Shiro started to work for a newspaper company called Hokumei Shinpo.

Ujou Noguchi worked in the same company at that time, and this is where he got to know Shiro and Kayo. Through having many conversations together, he must have heard about Kimi and how "she must be living happily in America" with the Huits. Noguchi must have gotten his image by the conversation and he wrote the poem, "A Little Girl Wearing Red Shoes".

In later years, Kayo would often say, "Ujou made that song for you, Kimi" and sang "A Little Girl Wearing Red Shoes". Her voice was full of sadness and regret.
However, Kimi actually never went to America. Until her death, Kayo believed that her daughter went to America with the Huits, but Kimi did not get on the boat to America. When Huits finished their mission and decided to go back, Kimi was suffering from tuberculosis, disease which was said to be incurable at that time. She was too weak to travel, so she was put in a Methodist orphanage in Tokyo.
Unfortunately no medicine cured her and Kimi ended her unhappy life at the age of 9 on the night of September 15th 1911.

The orphanage where she died was of Toriizaka Church which stood at Azabunagasaka between 1877 through 1923.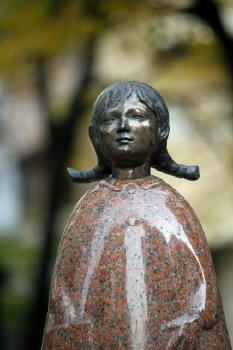 The orphanage which stood at No.50 of old Nagasaka town is now replaced by Juban Inari Shrine, but the orphanage is written in the book of "Azabu-ku History". It is very sad to imagine 9 years old Kimi, having separated both from her real mother and Huits, dying alone. She had to fight with her illness in the 2nd floor's farthest room of the old wooden built orphanage.
She must have shouted her mother's name when she was suffering from fever. She must have wished to be in her mother's arms. The only salvation was that her mother died without knowing about this.
When Azabujuban reflects of Kimi, one only wishes for Kimi, the girl wearing red shoes, to be in peace and to be thankful for what happiness one's got.
Because of this, Azabujuban Shopping Street built a statue of Kimi to be reminded of mother and childs bond and to wish everyone's happiness in February 1989 at Patiojuban.
On the day Kimi's statue was set at the Azabujuban Shopping Street, someone placed 18yen near Kimi's feet. This was the start of the charity. Everyday some money was placed on the statue. On the festival day of Azabujuban, Charity event is held beside Kimi's statue and children called for charity. After 30years, charity still continues. It might be 1yen, 5yen or 10yen at a time, but this goodwill money is collected and given to the UNICEF every year.
The total amount of charity collected by this spring was 15,590,000yen, out of which 13,490,000yen was given to the UNICEF, 300,000yen to the Higashinihon Earthquake Charity and 700,000yen to the Hanshin Earthquake Charity and 600,000yen to the Sumatran Earthquake Charity.
If Kimi were alive, she would be over 119years old, but she is still remembered as 9 years old Kimi and still acting as a symbol for the unprivileged children.
Translated by Chiho Hasegawa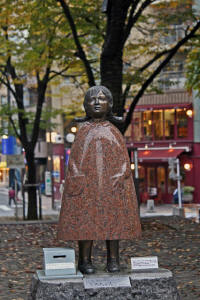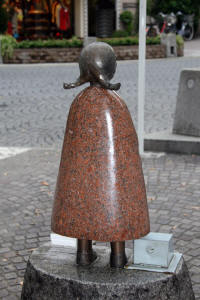 1. O' little girl nice on you pretty "Red shoes"
  She has gone far away with a foreigner (American)
2. From the port of Yokohama, over the waves
  She has gone with him to his home
3. I wonder, if she is happy and have nice days
 I wonder, if her eyes are blue like foreigner
4. I remember her when I see pretty "Red shoes"
  I wonder how she is when I meet a foreigner